Sports massage
Rehabilitate and treat tight muscles
Sign Up Here
Sports Massage Services
Is your body in need of some TLC?
Sports massage therapy is proven to reduce pain and injury in sports, exercise and fitness.
Whether you need to improve flexibility, ease tight muscles or recover from a sports event, Linnie Fitness sports massage services can help.
Sports massage techniques are utilised to reduce the impact of previous injuries, and the resulting scar tissue or in-elasticity that may be impacting on your body's ability to heal or move properly.
Regular sports massage therapy sessions can aid the improvement of movement quality, reduce tension from stress and give a better sense of body awareness.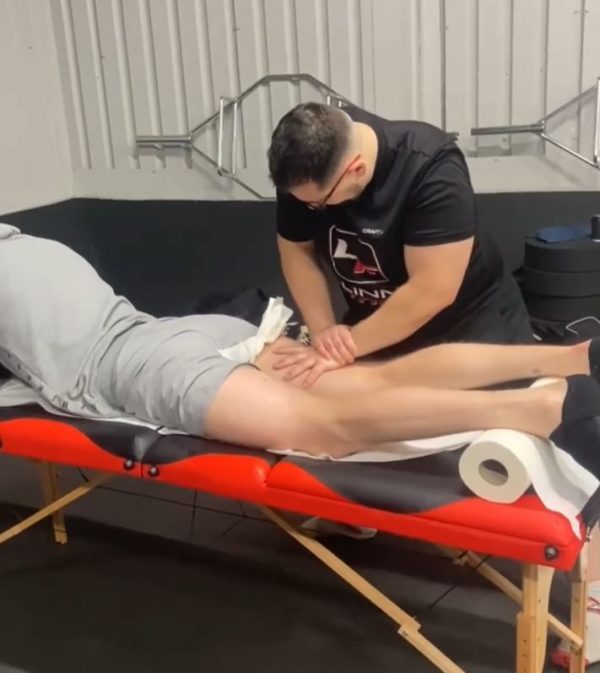 Benefits of Sports Massage

Improved range of motion

Better flexibility

Increased sense of wellbeing

Reduced stress from desk work

Reduced muscular discomfort

Better sleep

Injury rehab

Reduced pain
Sports Massage Services
Monthly PT clients can substitute a PT session with a sports massage therapy session.
Prior to sports massage sessions, a consultation is carried out to discuss any problem areas, history and background of your daily life and physical activity.
"Ben has instilled confidence and helped me develop self-belief through mindset coaching. He has given me valuable technical advice about injury prevention based around my sports performance in Rugby."
Aiden Bailey - -
"When you work with Ben and with Linnie Fitness, you're working with the very Best in the World. His focus, passion, drive, determination and work-ethic are unparalleled."
Russ Jericho - -
Get in touch!
Fill in our quick form and we'll be back in touch!
Connect with us:
To see which suits you best, feel free to book an absolutely free, no obligation consultation meeting. These services are available in and around Kettering, Northamptonshire.
For support and any questions:
Email: ben@linniefitness.co.uk
Phone: 01536 665189
Linnie Fitness
Unit 12 The Yards
Market Street
Kettering
NN16 0AH